Let's talk about making your own stock images to sell online!
Stock sites can be rather strict in what they approve especially in regards to photography but I have found it rather easy to have my background stock images approved more often times than not. There's not a lot of money to make when you only have a few stock images loaded to a stock site, but when you have a lot loaded they help to sell each other and your commissions start getting higher and higher.
I have a nice amount of abstract background images loaded to Depositphoto for instance and receive notifications like these sometimes on a daily basis. My earnings are most often .30 cents per stock item sold but sometimes they are more than that. And again the more stock images I have loaded to my account the more money I will make. When I have spare time I like to add more stock options here and there. And I do like that the hard work is "done" and I'm still making money on these older stock photo images even years after originally loading them.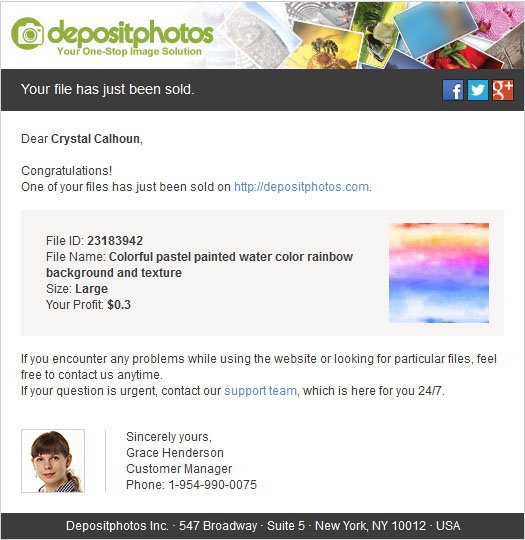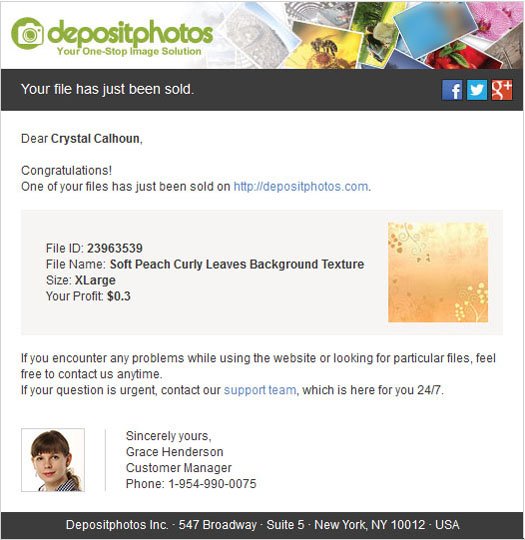 You're welcome to visit my family friendly stock account with depositphoto.com at:
http://depositphotos.com/portfolio-2202404.html
I also sell my stock photos at deviantart.com (DA).  The homepage of this site usually has bad images as well so I created an account with them and when I go to the site I go directly to my own profile page as I'm truly not interested in seeing all the bad images on their own homepage.
On my DA account I provide smaller free stock images with the option to buy the larger file sizes.  For this reason I have more than 1,000 watchers (followers).  I make more money when my files are sold on DA than on Depositphoto because I allow buyers to use the images for commercial purposes.  This is a pretty big deal.  A commercial photo on a site such as depositphoto or istockphoto can charge $30-$90 on up for each image so $1 for a commercial photo works well for everyone.
You're welcome to view my DA stock files at: http://madetobeunique.deviantart.com/gallery.
Selling Your Own Stock
Would you like to start selling some of your own background images to either of these sites?  Here's a link to sign up and become a Depositphoto.com contributor.  They have some strict rules when it comes to photography stock images but selling background images / digital art is fairly easy.  Just be sure to have REALLY large image sizes such as 4500×4500 pixels and don't compress.  They'll want the largest most professional jpg image possible.
To become a DA contributor just open a free account with deviantart.com and upload some photos.  If you don't want to see the ads on DA consider paying for a core membership.  DA is a lot less strict than depositphoto.com when it comes to what they allow members to sell.  This is why there is a lot more junk on DA than there is on the other more professional stock image sites.
There are some options on DA when loading your artwork that allow members to purchase the stock image download from you.  They make it pretty easy!  Here's a link that talks about selling digital art on DA.  DA also has a neat feature that will put your artwork on various products for purchase similar to Zazzle.com and so when a product sells you get a commission for that sell.
Important Reminder!
Don't forget to clear your cache when you leave those websites or you may get really trashy Google ads on your favorite family friendly website (or at least on the ones that use Google Ads).